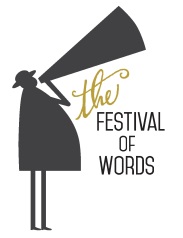 FOR IMMEDIATE RELEASE
WHAT: Festival of Words 2019
WHEN: Nov. 1 and 2
WHERE: Grand Coteau and surrounding area
CONTACT: Martha Garner, fowmartha@gmail.com or 337-804-2482
The Festival of Words celebrates another year with three amazing authors and two days of memorable events! The festival will take place Friday and Saturday, November 1 and 2 in Grand Coteau. This year includes nationally recognized authors: Novelist Yuri Hererra, Spoken Word Poet Donney Rose, and Poet Tyler Robert Sheldon. Festival events include: creative writing workshops in community centers and public schools, a community stage for open mic, "Drive-by Poetry" in grocery stores, boutiques and restaurants--and many opportunities for people to interact with featured, nationally acclaimed authors.
The Friday night event takes place at Chicory's Café in Grand Coteau featuring a poetry presentation by Tyler Robert Sheldon, a dynamic spoken word performance by Donney Rose and Yuri Herrera reads from his award-winning fiction. On Saturday, Drive-by Poetry performers will recite poems in Grand Coteau and Sunset businesses. Meanwhile, at the Thensted Center there will be an open mic and multiple creative writing workshops, which are open to the public, as well as a blackpot cook off. For more information, check out festivalofwords.org or contact Martha Garner at (337) 804-2482 or fowmartha@gmail.com.
The Festival of Words is supported in part by a Grant from the Louisiana Division of the Arts, Office of Cultural Development, Department of Culture, Recreation and Tourism, in cooperation with the Louisiana State Arts Council as administered by the Acadiana Center for the Arts. The festival also receives support from the St. Landry Parish Tourism Commission.



The Festival of Words appreciates partnerships with Acadiana Writing Project, Lyrically Inclined, Nunu's and many volunteers and sponsors.
______________________________________________________________________
AUTHORS
Yuri Herrera (Actopan, Hidalgo, Mexico, 1970). received his BA in Political Science at UNAM, his MFA in Creative Writing at the University of Texas at El Paso, and his Ph.D. at the University of California at Berkeley. His first novel Kingdom Cons won the Binational Young Novel Award in 2003 and received the ""Other Voices, Other Viewpoints" prize for the best novel published in Spanish in 2008; his second novel, Signs Preceding the End of the World, was a finalist of the Romulo Gallegos Prize. He published in 2013 The Transmigration of Bodies; the three novels have been translated into multiple languages, including English, by the British publisher And Other Stories.

In 2016 he shared with translator Lisa Dillman the Best translated Book Award for the translation of Signs Preceding the End of the World. In 2016 Rice University and Literal Publishing published Talud, a collection of his short stories. Also in 2016 he received the Anna Seghers Prize at the Academy of Arts of Berlin, for the body of his work. His latest book is The Fire in the El Bordo Mine. He has taught literary theory, creative writing and Latin American literature at the Universidad Iberoamericana, in Mexico; and at the University of North Carolina-Charlotte, before coming to Tulane University, where he is an associate professor.
Donney Rose is a poet, teaching artist, creative consultant, and community activist from Baton Rouge. He holds a BS in Marketing from Southern University and A & M College. He is also the Chief Operating Officer of Black Out Loud Conference, LLC which hosted its first three-day conference in Baton Rouge in August 2018. Donney has authored two books – The Crying Buck , an acclaimed chapbook of poetry that delves into Black masculinity and vulnerability through a critical lens, and Black Out Loud , a collection of prose-style poetic interpretations of Black History Month 2017. His work as a performance poet/writer has been featured in a variety of publications, including Atlanta Black Star , Blavit , Button Poetry , All Def Digital , Slam Find , [225 Magazine] , Drunk In A Midnight Choir , and Nicholls State University's Gris-Gris literary journal . Donney also contributed two articles to the St. James Encyclopedia of Hip Hop Culture, 1st Edition (St. James Press, February 2018).

Hailed as a pivotal community voice in Baton Rouge, Donney's advocacy work has been featured on local, national, and international platforms, including BBC, HuffPost , The New York Times , PBS' PBS' Democracy Now , and The Advocate . He was also featured on the Fight the Flood album, a project by various artists to benefit the Capital Area United Way's flood relief projects in 2016.

His awards and recognitions are many. Donney is a past Kennedy Center Citizen Artist Fellow, a member of the 2017 Greater Baton Rouge Business Report Forty under 40 class, the recipient of the Ink Festival's inaugural Making a Mark award, New Venture Theatre's 2016 Humanitarian of the Year, and a 2018 LINKS Role Model, among other accolades.

Donney lives in his hometown of Baton Rouge with his wife and fellow writer, Leslie, and their twin cats, Jalen and Derrick.
Tyler Robert Sheldon's five poetry collections include Driving Together (Meadowlark Books, 2018) and Consolation Prize (Finishing Line Press, 2018). He is Editor-in-Chief of MockingHeart Review, and his poetry, fiction, artwork, and criticism have appeared in The Los Angeles Review, Pleiades, The Tulane Review, The Dead Mule School of Southern Literature, Tinderbox Poetry Journal, and other venues. A Pushcart Prize nominee and recipient of the Charles E. Walton Essay Award, he is an MFA candidate at McNeese State University, and in the Fall of 2019 he will pursue his PhD in English at Louisiana State University. View his work at TylerRobertSheldon.com.
SCHEDULE
Festival of Words
2019
FRIDAY, NOVEMBER 1
Artists: Yuri Herrera, Donney Rose & Tyler Robert Sheldon
Event: Literary presentation + Q & A and Book/CD signing
Time: 6:30 — 9:00 p.m.
Location: Chicory's Coffee & Cafe, 219 E Martin Luther King Dr.
Grand Coteau, Louisiana
SATURDAY, NOVEMBER 2
Unless otherwise stated, all events on this date take place at The Thensted Center, 268 Church St., Grand Coteau, LA 70541.
Presenters: Bruce Coen and Friends
Event: "Drive-by Poetry"
Time: 9:30 a.m. to 2:00 p.m.
Location: MLK Dr., Grand Coteau in cafes and gift shops, and on the streets
Host: Alex "PoeticSoul" Johnson
Event: Community Stage Open Mic
Time: 11:00 a.m. to 3:00 p.m.
Event: Awards Ceremony for Youth of Creative Writing Contest
Time: 11:30 a.m. to 12:15 p.m.
Event: Drive-by Poetry with Authors at Electric Magnolia, 202 Martin L King Road
Time: 12 p.m.—1 p.m.
WORKSHOPS
Artist: Donney Rose
Event: Workshop "There is Poetry in Everything"
Time: 9:15 a.m. to 11:10 a.m.
Artist: Yuri Herrera
Event: Fiction Workshop "Points of View: Writing in the Margins"
Time: 1:00 p.m. to 2:50 p.m.
Artist: Tyler Robert Sheldon
Event: "Building Confidence in Creative Writing: Poetry and Flash Fiction"
Time: 3:00 p.m. to 4:50 p.m.